Welcome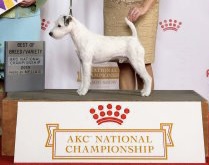 GRCS CH BARNUNíS NO SECRET
Barnun Kennel is a small kennel based out of Miramar, Florida
.
I BELIEVE IN THE TOTAL DOG
Most important is temperament.
This means not only in the confirmation ring, but also in obedience, agility, canine companion and earth dog. To be able to work to this extent your dog has to be on sound body and mind. Meaning the proper structure to with stand the rigors of the work and the attitude to enjoy what they are doing. Making them either an excellent pet or an outstanding working dog. I do test all my dogs for proper health including hearing and eyes.
I take a very hands on approach when it comes to raising my dogs. My dogs basically run my household...we are only here to give them love, all of their basic daily needs and anything they choose to ask me for.
PLEASE DO NOT HESITATE TO CONTACT ME AT ANYTIME